Bookmark this page with:

Delicious

Digg

Reddit

Facebook

StumbleUpon
To Keep this Site Free!
Nancy Drew Mystery Stories
E-Books
>
Nancy Drew Series
> Nancy Drew Mystery Stories
---
The following list of books are available to be downloaded directly from this site at no charge. To the best of our knowledge they are all in the public domain and no rights are infringed by their inclusion here. If this is not the case, please notify us and we will immediately remove any offending title.
---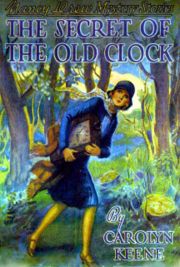 The (original) Nancy Drew Mystery Stories
Starting in 1979, the original series was extended with new volumes published in paperback, and in the late 1980s a new spin-off series The Nancy Drew Files was created for Simon & Schuster, Inc., starting with Secrets Can Kill. In recent years, the spinoff series Nancy Drew Notebooks and Nancy Drew: On Campus have been published. The Nancy Drew Girl Detective series is the newest version of tales about the titian-haired sleuth. Nancy Drew also appeared with the Hardy Boys in the 36 volume Supermystery series, plus a Be A Detective series (written in the style of Choose Your Own Adventure series). For more information about this, please visit "Nancy Drew Sleuth"
---
Write a feedback